Untold Stories - Dowlish Wake Families, Norton & Savidge lose a son in WW1.
Private William John Savidge – F/2578
From a promising career as a manager at a London Cycle & Sports Store to the battlefield on Messines Ridge in West Flanders.
A former pupil of Ilminster Grammar School.
Private William John Savidge, service number F/2578, died of wounds received aged 30 years.
Dowlish Wake, down the years, has been home, to William John Savidge and his many forebears. Between them, they consisted of yeoman, dairy and sheep farmers, gamekeepers, farm bailiffs, overseers and master/journeyman butchers. The paternal surname, Savidge and the maternal, Norton, both surnames found in Dowlish Wake and West Dowlish during the 1800s. Properties occupied included, Manor Farm, Moolham Farm and nearby Park Farm at Donyatt. Although not residing in the village at the time of his enlistment, William John Savidge would have been well known to many villagers'.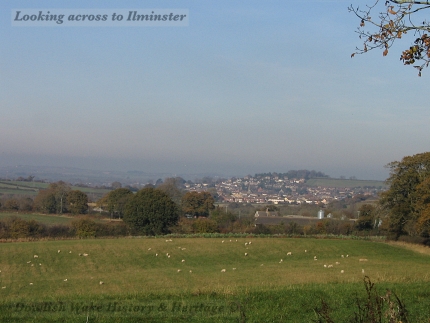 William John Savidge like so many of his generation was called to fight for his country, a stark contrast to their former lives. He had already exchanged the green fields of Moolham Farm for Ilminster town life, then onto bustling London. Only to have his life ended, on the Western Front at Messines, hours after being wounded on a June day in 1917.
The Savidge Families of Dowlish Wake
Great grandfather of our William John Savidge was a John Savidge [born Martock 1795]. The grandfather, William Pine Savidge [1817-1884] also born in Martock. The latter a Master butcher and farmer. His son, and father of William John Savidge, was Edward Savidge [1854-1929] born in Puckington. In 1881, William Pine Savidge, butcher on the Ilminster road, Puckington.
In 1891 Farmer and Master Butcher, Edward Savidge and family including 4-year-old William John Savidge are at Little Hill Farm, Buckland St Mary, the birthplace of William John. In 1894, Kelly's [directories of Somerset] show Edward Savidge a farmer, in Dowlish Wake, this Edward, is also Overseer for the parish around that time. The family in Moolham Farm, West Dowlish. Then, retiring from Moolham Farm in 1896, Edward and Mary put the farm stock and implements, up for auction in February of that year. Under the hammer, Devon cattle, swine, waggons, chaff-cutter, cider making items and 'in field' mangel-worzels. Later in April of that year, a sale by auction at Moolham Farm advertised, 43 Acres of 'Meadow, pasture, orchard and grass'. The family next moved to Ilminster town.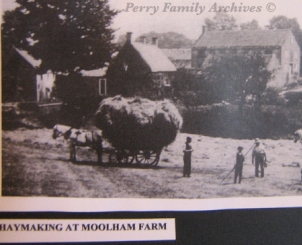 The Norton Families of Dowlish Wake
The mother of William John Savidge was Mary Savage Norton [1855-1931]. Her birthplace, Dowlish Wake, and her family, butchers and farmers. Her father John Norton [1819-1901] born Dowlish Wake, Journeyman Butcher. The grandfather Yeoman, John Norton [1795-1866] Master Butcher, born Chillington. William John's father, grandfather and his uncle, George Norton, were at times in roles of Gamekeeper, Bailiff, Overseer to William Speke Esq. of Jordan's. The surnames Norton and Savidge intertwining over the years, with a marriage in 1818 of Grandfather John Norton and a Mary Savidge of Hinton St George. The family, farming tenants, of land in Mill Lane owned by William Speke esquire.
William John Savidge and his war
By 1901 the family were at Strawberry Bank in Ilminster [Possible Butcher premises], William John Savidge now 14 years. Father Edward, mother Mary, brother Walter Edward, five years, two sisters, Olive and Mabel, 12 & 6 years. William John Savage passed his Civil Service exam in 1902 while at Ilminster Grammar School, this enabled him to become a boy copyist in the Civil Service. We find him next in London, 24 years old, in the 1911 Census at St Marylebone, London, lodging at a boarding house and working in a Motor Store.
By 1916 William John is living in Cricklewood seemingly settled in London with a promising career. But on the 24th February 1916, William John Savidge signed Short Service Attestation papers at Whitehall. Aged 29 years, enlisted, vaccinated and entered onto the Army reserve list. At this time, the war office had found voluntary recruitment of recruits slowing. It was the 'eligibles' that were then called to service. [Wholesale conscription of eligible men for military service introduced under the Military Service Act].
Enlisting at Mill Hill, Middlesex, he gave his next of kin as father Edward Savidge, [this is Edward Savidge, farmer who had farmed Moolham Farm]. His address 'The Telephone Exchange', North Street in Ilminster. [One of William Johns sisters, a GPO Telephone Operator]. This record on the attestation papers duly updated two months later when he married, his new wife, Lucy Dora Hoult. They had married at Richmond in Surrey on the 12th of April. Three days later, the 15th of April, Private William John Savidge No 2578, was mobilised.
His attestation papers give his current occupation as Manager at a Cycle Sports Store, possibly, Richmond or Cricklewood. His work would have maybe led to conversations with keen cyclists who were joining 'pals groups' such as a cyclist battalions as their preferred contribution to wartime. When his time came in 1916, he eventually was posted to a 'sport' battalion, a 'Football Battalion'. The 17th, 23rd and 27th all became known as 'Football Battalions', [Middlesex Regiments].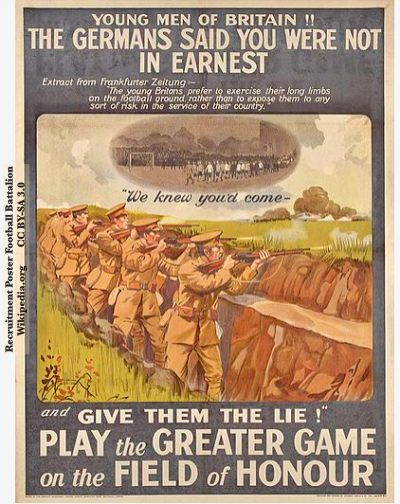 On the 16th of April, posted to the Middlesex Regiment, 27th Battalion [Reserve] formed in 1915, training possibly at Aldershot. Leaving British soil for France on the 25th of August 1916. Re-posted 26th August to SEF BD 41st. Foot division. He arrived in France 27th August 1916, disembarked and reposted into the 23rdBattalion, Middlesex Regiment. Joining his Battalion 'field' some three weeks later, the 17th of September 2016. War service records place Private W J Savidge – 2578, at the Battle of Messines Ridge in May 1917. We can't be sure what actual bloodshed and horrors he experienced, in or before the battle of Messines. But on the 7th of June, 'Wikipedia' record two infantry brigades of the 23rd division, being led up near the crest of the ridge, 'arriving while the ground still shook from the mines'. At present, we only have the records from his 'Active service casualty form'. The record 'Wounded in Action' on the 7th of June in 1917- 'GSW' [gunshot wound/ head]. Sadly, he died in the 'field' of his wound a few hours later at 1 am on the 8th June 1917.
Earlier, following the battle of Arras, attention was focussed on the high ground near Messines in West Flanders. The enemy occupying high ground in an otherwise flat landscape, advances made by allied troops carried out at night under cover of darkness. The answer, Tunnels, extending for miles dug under enemy lines. 19 or so mines packed with explosives. British engineers detonated the explosives in the massive mines, at 3-00 in the morning of the 7th of June, the sound heard in London. The explosion had caused enormous craters, ' Pillars of Fire' is how some have described the blast. Following this, allied troops advanced utilizing a 'creeping barrage', a forward shifting offensive, the plan, to capture the wire fortified enemy trenches. Co-ordination between artillery and troops gave cover for the troops to do so, trench by trench. The capture of the German-held Messines-Wytschaete ridge was achieved, later known as the Battle of Messines Ridge.
By now Private William John Savidge 2578, wounded, no longer in service for King and Country. What he did give, however, was service that lasted one year and 55 days. Thousands of German troops perished as did troops from the whole of the British Empire. Unknown for now are details of the position of Private Savidge at Messines as he was wounded. Future investigation of Regimental War Diaries might help. He most likely had narrow escapes and would have seen acts of bravery and courage. His Campaign Victory and British War medals were later received by his widow Lucy Savidge.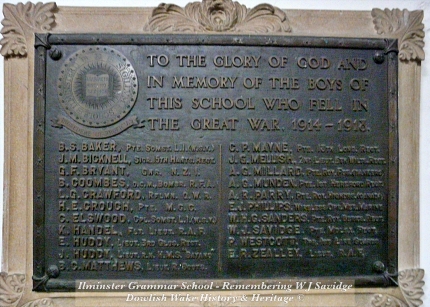 Military Appeals Tribunal - Williams John's cousin.
The week of William John's death in 1917, his uncle, Edwards brother, William Pine Savidge [1856 - 1945] and his only son, Richard William Savidge [1896-1975], of Park Farm in Donyatt, were attending a Military Appeals Tribunal held at Taunton. They had requested, earlier in April 1916, exemption from being called up for war service, for son, Richard William aged 19. His role on the farm being "indispensable" looking after all the farm machinery at their 300-acre tenancy, Park Farm in Donyatt. This exemption was granted. At the appeal in 1917, the Military advisor argued that a substitute should now be found for the role of the engine driver and assisting with the farm machinery. Father William Pine told them "no one could take his son's place". This second exemption also allowed. During the second world war, Richard William Savidge was recruited into the Dowlish Wake volunteer ARP Service [Air Raid Precautions]. His wife Una Savidge, an ARP 'first aid' warden in the village
William Pine Savidge and son farmed Park Farm Donyatt from 1913 until 1919. Following this, they became tenants at Dowlish Wake Manor Farm, Dowlish Wake, during the period 1920-1940, directory entries, list them as 'Savidge & Son' dairy and sheep farmers. It was around 1919/20 that Park Farm, then part of the Donyatt Estate, which was held by Mr R T Combe of Earnshill, was, together with land held by Wm Speke, purchased by Somerset County Council. The land was divided into smallholdings and leased to returning soldiers of the First World War.
Private W J Savidge
Service Number F/ 2578
Battle of Messines Ridge
Flanders, Belgium
Wounded 7th June 1917
Died 8th June 1917
23rd Battalion
Duke of Cambridge's Own [Middlesex Regiment]
Commonwealth War Graves – XXV.H.17a
Etaples Military Cemetery, Pas de Calais, France.
His widow received Victory & Campaign Medals.
Memorial Stone in St Andrews, Dowlish Wake.
Edward Savidge, Died Dec 27th, 1930, aged 76.
Mary, his wife, died Jan 9th 1931 aged 75.
Their sons,
Edward died Dec 26th, 1891 aged 11 months.
William, Killed in Action, June 8th, 1917, aged 30.
R.I.P.
The Minster, Ilminster, has a memorial plaque linking him to Ilminster Grammar School.
Also, a plaque commemorating the Ilminster Roll of Honour.
In 2010, a Footballers Battalion memorial unveiled at Longueval in Somme, France. In memory of the 17thand 23rd Battalions: 'The Footballers Battalions'. An inscription reads "This is worse than a whole season of cup ties".
Ilminster Grammar School - A Record of this plaque at: https://www.iwm.org.uk/memorials/item/memorial/24999 War Memorials Trust - This image copyright to Mark Newton-2 November 2015 [WMR – 24999] Creative Commons BY-NC licence.
The Memorial Plaque in The Minster, St Marys Church, South Aisle, Ilminster, Somerset. Commemoration First World War 1914-1918 - Ilminster Grammar School
Etaples Military Cemetery – Commonwealth War Graves Commission. iwm.org.uk/memorials/item/memorial/24999 & www.cwgc.org
Somerset Record Office - Kelly's Directories, Tithe Records, Census and Births, Deaths and Marriage.
WW1 various & Battle of the Ridge - Wikipedia
Tunnels under German Lines & 'one million pounds of explosives' & 'men knocked off their feet'- nationalgeographic.com.
Football Battalions.
Memorial at Longueval, Somme, France – Erected in 2010 - ww1cemeteries.com
'8 officers and 298 others left'. The 23rd Middlesex [2nd Football]
Battle on the 7th June 1917 Footballandthefirstworldwar.org
General details, Wikimedia – Creative Commons Attribution
Middlesex Regiment [Duke of Cambridge's Own] 23rd [service] - Battalion [2nd Football] www.forces-war-records.co.uk
Aldershot 41st Division & www.forces-war-records.co.uk
https://search.ancestry.co.uk/search/db.aspx?dbid=1219 12 March 2019. online subscription website
Ancestry.com. British Army WWI Service Records, 1914-1920
1935 Kelly's Directory
1939 England & Wales Register
www.findmypast.co.uk online subscription website
ARP service WW2 - The National Archives 1939 Register
Ilminster Grammar School, prizegiving - 16th Aug 1902, The Chard & Ilminster News.
Ilminster Grammar School, Civil Service Exam. Western Chronicle, Ilminster.
First World War 1914-1918 - British Army Records Commonwealth War Graves Commission Debt of Honour
"Moolham Farm" - 1st February 1896 The Chard & Ilminster News, page 4.
"Moolham Farm" - 4th April 1896 The Chard & Ilminster News, page 4.
Tribunal –[British Newspaper Archives] 2nd May 1917, Taunton Courier and Western Advertiser page 2.
Tribunal –[British Newspaper Archives] 26th April 1916 Taunton Courier and Western Advertiser- Online subscription site.
His name appeared on a casualty list on the 9th July 1917
www.thegenealogist.co.uk online subscription website London Census 1911- 12th March 2019.
12th March 2019 Soldiers Who Died in The First World War, 1914-1918 [database online].
Regimental War Diaries – www.nationalarchives.gov.uk
War Diaries - National Archives
War Diaries - Possible connection; see Diary Record numbers 2635 & 2939 - 41st Division,122&123 Infantry Brigade, [Duke of Cambridge's Own] [Middlesex Regiment]. 23rd Battalion 02/05/1916 to 31/10/1917 & 03/05/1916 to 28/02/1917