Mary Hunt's Grave - part two
The discovery of new evidence contributed by villager Mr Edgar opens up a new chapter in Mary Hunts Grave's mystery.
Servant girl Mary Hunt of Cricket Malherbie appeared before Justices of the Peace on May Day, 1649.
A promise of marriage, a pregnancy, a concealed infant death, and we presume, her sentence of death.
The Bastardy Act of 1575 provided legal means to question a woman found to be pregnant outside of marriage. An 'Examination' under oath, to determine suspected pregnancy, its outcome, and name the father of the 'base' born child.
It seems that Mary Hunt, unmarried and servant to Thomas Plympton of Cricket Malherbie, found herself pregnant, with the child's father also her master. Her outlook would have been untenable, having believed his promise to marry now did not stand. From the little that can be deciphered from the hand-written 1649 Bastardy Examination, it would seem that Thomas Plympton already had a wife.
The expectation is that having given birth to an illegitimate child, she secretly disposed of the body. Having denied being pregnant, Mary Hunt is thereby subjected to a bodily examination and found to have 'milke in her brestes'. She, it is thought, is accused of infanticide, submitted to punishment and lies in a grave at Oxenford Crossroads.
In her plight, Mary would have found herself up against the harsh and oppressive moral attitudes, laws and punishment of that time. The parish overseers likely arranging the Examination of Mary Hunt, seemingly accused of infanticide under the Bastardy Act of 1575. We don't know if anyone spoke up for Mary in her defence as to her character, asked of the pregnancy, the birth or whether or not she had concealed an infant's body. Whether accidental or innocent, her distress and humiliation can only be imagined.
If the child had died at birth, her salvation would have been to provide a witness. Alas, this is not the case according to the details available. Without such a witness, the mother would suffer death, accused of 'murthering' and concealing the infant's death, as we suggest happened with Mary Hunt. It is an oddity that the Statute and its Infanticide Act of 1624 were created to minimise such infanticide cases.
Mary, as her condition became apparent, most likely facing not only shame but unable to provide a means of support for herself or an illegitimate child. Many in such a situation would find themselves unwelcome back at their parent's home, many mouths to feed, accusations of bringing shame to the family. Dismissed from her position as a servant, no references for future employment. Moving out of the district unlikely to be successful, potential lodgings denied such women considered to have morally strayed.
Every parish was responsible for its own poor, movement in or out of parishes, strictly controlled. Indeed, parishes finding an unmarried, pregnant woman in their midst brought about a collective process of damage limitation. Those unable to support themselves, falling on hard times, seeking
settlement, paupers, would be moved on, considered economically damaging to parish coffers. Travelling through the local countryside, she would have faced being physically escorted out of villages by overseers or constables. Their hastily issued removal order, not risking another chargeable person on the parish purse, the thinking perhaps, being more economic than moral.
Earlier, around 1609, it was not uncommon to send such women to a house of correction or gaol for 12 months. The situation was a little better when later in 1743, an act was passed addressing settlement. A bastard born where the mother had no settlement agreement was then allowed to have its mother's original agreed settlement. However, often the mother would be punished by way of a public whipping on market day.
So, assuming she was even aware of her options, we turn to the process that presumably led to her paying with her life for her predicament. We do have the original examination document but lack a complete transcription, plus details regarding location, indictment, assize/ sessions courts, and the actual verdict. These do not seem readily available.
Mary appeared before those who had the authority to enforce the law. These were two 'Justices of the Peace'; John Preston and Henry Bonner with Mary provided her testimony under oath. Also present were Mrs Freake, midwife of Chard, and two women, who had themselves given birth. Their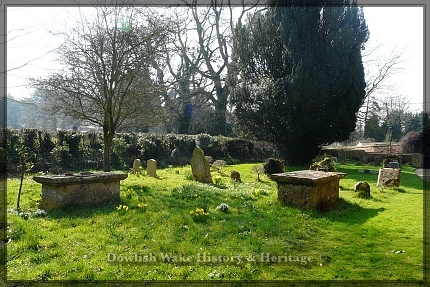 task to physically examine and determine proof of pregnancy, obtain a confession and name the father.
The indignity of being actually examined by the midwife and other women, with them stating she had milk in her breasts, indicates she was claiming not to have been pregnant. Did anyone discover an infant's body? Perhaps witnesses had provided statements of her recent body shape or the disposal of an infant body. The reasons remain unknown.
The alleged father and master, we are told, was one Thomas Plympton, [Plumpton/Plimpton/etc.], a Yeoman of Cricket Malherbie. Research reveals two of that name existed in the village. From studying their wills, we see only one alive at the time of the examination. Both wills contained requests of burial at Cricket Malherbie churchyard. However, a site visit proved unsuccessful as their particular gravestones have not survived. Further research at Somerset Heritage Centre might prove useful regards gravestone transcriptions. [Together with a more experienced eye on the handwritten Examination document plus Wills of 1665 & 1672.]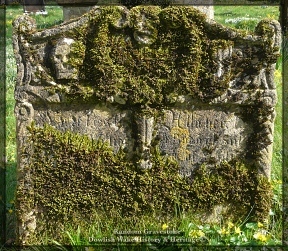 As evidence of a wife, we do have a Bishops Transit marriage entry for a Thomas and Izard Plympton, dated 14 June 1666 at Cricket Malherbie. She, sometime before 1695, is recorded as purchasing property, then a widow. It appears the widow went on to marry, gaining a new surname of [Isset] Walsh. Selling that same property in 1695 to a George James of Cudworth. Still, in Cricket Malherbie, we have the death of Isott Walsh in 1707. [Izard Isset/Isott/Isett]
Boys and girls entered into service young, living within the household. There was always the chance that servants could be led astray. Young girls and women were often vulnerable in a household of males, whether male servants or masters. The examination document reads that her master: "had the carnal knowledge of her body" "in his house at Cricket Malherbie". Any discussion or any punishment of a Thomas Plympton/Plimpton in records remains as yet undiscovered. However, it appears that in such cases, the female would well have expected the harsher treatment.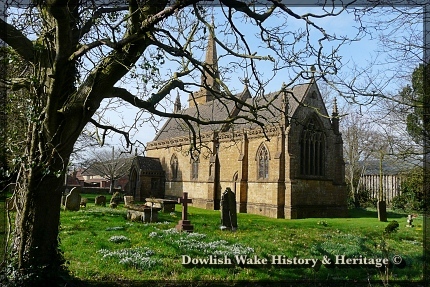 In his article "Infanticide in Earlier Seventeenth-Century England", Keith Wrightson comments, "The realities of village life, reinforced after 1624 by a discriminative law, would tend to focus attention on the bastard-bearer".
Before verdict and punishment, she may even have had a spell in gaol awaiting sentence. Then a charge such as infanticide most likely heard before jurors at an Assizes court.
The initial charge against Mary Hunt possibly brought to the churchwardens and overseers, constable or other parish officers of Cricket Malherbie. Then maybe Petty or Quarter Sessions courts. Perhaps a petition presented to the Assize Court and an Indictment drawn up by the clerk of the court, detailing the charge against the accused. Courts were held at Taunton, Bridgewater, Ilchester or Wells. Then, as we have seen, on that May day in 1649, Mary Hunt appeared before the two Justices of the Peace. Henry Bonner and John Preston, it would be expected, both authoritative figures.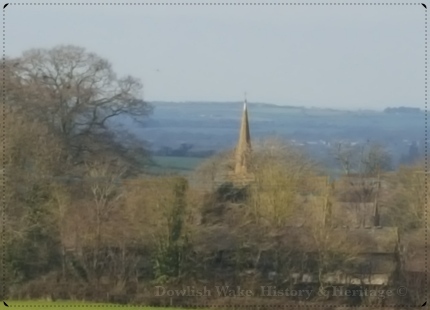 In 1649 it seems that the County of Somerset was only just getting back to normal after the upheaval of the Civil War. Quarter Session magisterial activities after 1642, put on hold, the County administration in disarray. Burdens tedious, not only moral problems, like Mary's but the devastation caused by hostile armies that had moved across the Somerset landscape.
Quarter Sessions Records for the County of Somerset.1649-1650. Roll 94:page 314; No 36 - 'Kalender' of Marmaduke Corum, [keeper of the House of Correction at Taunton], 13 January 1656. "One runaway apprentice and nine women committed for bastardy and evil course of life."
The Quarter Sessions of 1649 record the tasks authorities and folk were still facing. Bridges damaged or destroyed, land un-cultivated, livestock much reduced due to the feeding of the armies, rents unpaid, 'maimed' soldiers and their families destitute, unable to support families, awaiting the Justice of the peace to organise pension payments. The Justices, bailiffs and constables more than likely developed a more rigid attitude.
"It was very difficult to get suitable persons to serve the multitudinous offices in hundred, parish and tithing" – "The duties could only be carried out by strong, active men able to hold their own in a rough-and-tumble affair". 'Ivelchester' 1647.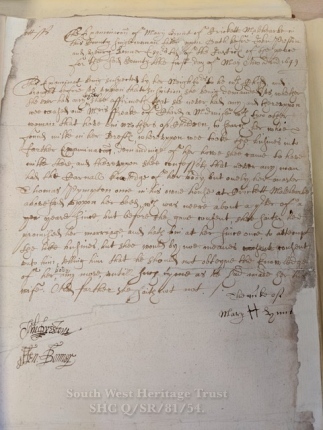 Henry Bonner Esq was no stranger to the area, having conducted many marriages in Cricket Malherbie, Dowlish, Kingstone, Cudworth and Ilminster. Henry Bonner:
"the favourite marrying justice in our parts during the Commonwealth period, this the civil war beginning 1642, when marriage ceased to be a sacred rite for the time being".
Hence brides and bridegrooms travelling from surrounding villages to his home in the ancient manor, on the far side of Chard, at Waterleston, [later known as Waston/Weston] near Wambrook, Combe St Nicholas.
In the year of the examination, Henry Bonner was appointed Sheriff of the County of Somerset 'South Petherton Hundred'. Presiding over Petty and Quarter Sessions, handling legal cases large and small. Treasurer of a 'Maimed Soldiers' pension fund dealing with petitions from unfortunate wounded soldiers and the many widows of those who had not survived. So, we can presume Henry Bonner would be well known to those in the local area.
At Marys Examination, the other Justice of the Peace was John Preston, who earlier, in the late summer of 1642, had himself found his life in danger. A skirmish of the Civil War at Marshalls Elm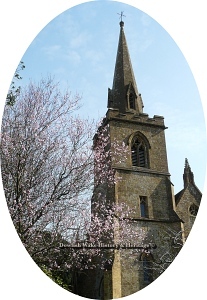 battle, near Street in Somerset, John a Parliamentarian was taken prisoner by the Royalists. Allegedly his life preserved by Sir John Poulett, Royalist, who persuaded his men to spare the blood of the men.
John Preston, gentleman, a local man of Cricket Manor, at Cricket St Thomas, the family home of the Prestons' since 1462. Nephew of naval hero Amyas Preston knighted by Howard. John Preston had been Sheriff of Somerset the previous year in 1647-8, with several years behind him as a busy 'Justice of the Peace'. When younger, John Preston had been Captain of a 100 strong 'enlisted' band of men under previously mentioned John Poulett of Hinton St George. Now John Preston and other officials were called upon to mediate in all manner of problems, from the damage to the Tone Bridge at Taunton to ordering errant fathers to pay for their 'base' born offspring.
Both John's and Henry's names appear numerous times in the records executing various judgements of offences. Both kept busy following the Civil War. Bastardy orders numerous, and the session rolls remark:
"The offending women were no longer flogged, but it may be doubted if this decision shows humanity or the desire to deprive the market folk of a pleasing spectacle. Assaults on women both in house and field were frequent, and there are instances of gross and open indecency."
So, we can see that at the time of the 'Examination' of Mary Hunt, village life was much disturbed due to the Civil War's earlier background. Taunton had seen two lengthy sieges in 1644 & 1645. Now folk putting to rights the residue of upheaval caused by the unrest and its aftermath.

Challenging times, the Justices of the peace hearing many confessions and accusations of single women's condition as to an expected 'base' born child. Had Mary given birth and the child be alive and well, she would still have faced a process to discover the parentage as a single woman. Any such child could become chargeable on the parish. Every effort would be made to identify the father to secure financial support from the father, an examination teasing out detail. Having sworn under oath the father's name, payment would be secured from him, so avoiding a charge on the parish. The process for this was issuing a bastardy bond, a maintenance order served on the father, he having to sign the bond. If he refused, the overseers of that parish would obtain a bastardy warrant from the Magistrates. If payments failed to be paid, the father would find himself in gaol awaiting the court's next quarter sessions.
So, to conclude, with the handwritten Examination Document our only evidence, plus promotion of the gravesite, we must suppose this is indeed the one and same Mary Hunt. Charged with infanticide – buried at Oxenford Crossroads.
Further reading and sources:
Many thanks to Dylan Edgar for his help and the discovery of the Examination Document, and to Graeme Edwards, Archivist at Somerset Archives, SW Heritage Trust for permission to include the document in this article.
Examination of Mary Hunt: Document - South West Heritage Trust, Taunton Heritage Centre. Q/SR/81/54 - Permission to print for the use of the image. 15.01.2020. 108776-108776
Punishment of bastardy:
'Punishment or Bastardy in Early Seventeen Century England. Walter J King, Cambridge Press.
1576 Poor Law - Bastardy Act – legitimacy [family law] - en.m.wikipedia.org
'An act to prevent the murthering of Bastard Children',
"Infanticide in Earlier Seventeenth-Century England": Keith Wrightson - localpopulationstudies.org.uk Page 10 &15.
The Infanticide Act - Hansard [UK Parliament] Nakedhistory.com
The 1624 Statute.
Infanticide in the Early Modern Period – newhistories.group.shef.ac.uk
Concealment - Infanticide Act of 1624,
1623 Statute – Statutes.org.uk - 21 James 1. c27 [To prevent the destroying and murthering of bastard children.] Aiming to limit the concealment of pregnancy and oftentimes resulting infanticide of infants. However, until 1803, the earlier Act repealed and so changed the law for unmarried women accused of infanticide.
Mother to be Publicly whipped. Act 1743/4. The child takes the mothers settlement but can still be punished. Workhouses.org.uk
1803 Lord Ellenborough's Act: 43 George 3 c.58: Lord Ellenborough's Act–statutes.org.
'Death, Emotion and Childhood in Premodern England and Wales': Researchgate.net. [Garthine Walker-Cardiff University.]
Thomas Plympton - Yeoman
We have two Wills of a Thomas Plympton of Cricket Malherbie.
First, the probate date of 1666 for a Memorandum dated March 1665 by Thomas Plympton of Cricket Malherbie.
Second, a probate date of 1674 for a Will dated 1672 by a Thomas Plympton of Cricket Malherbie.
Memorandum of 1665 – Probate & Burial 1666- Thomas Plimpton – late of Cricket Malherbie.
Somerset. thegenealogist.co.uk & ancestry.co.uk - PPC Wills, 2nd March 1665, Probate May 1666. [PROB11/320]. Brief transcription provides: Thomas Plympton [the son?- sole executrix] -J Cordiff [in the presence of] - C Tuttick & Robert M. [witnesses]
Will of 1672 - Thomas Plympton/Plimpton - Yeoman, Cricket Malherbie. Somerset.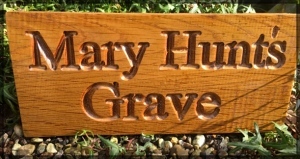 thegenealogist.co.uk & & ancestry.co.uk
PPC Wills, 10 April 1672, Probate 4 July 1672. [PROB11/339]
Brief transcription provides: - Isett [my wife & sole executrix] - Note. Thomas his son already deceased.
Thomas left his property to his kinsman: "John Gregory and his mother, daughter of my brother".
The brother John Plympton [Johannis] [already deceased, a mariner of Southwark, Surrey]. This Johns Will, in 1661, named his wife Grace, son John and two daughters Eliz and Mary.
Others named in the Will of Thomas 1672 are:
Ruth Merrimout [servant-the sum of ten pounds] - William Waldron [witness] - William Morron [witness]- John Sansom [witness-the mark of].
Marriage Thomas and Izard Plympton,
14 June 1666 at Cricket Malherbie. Somerset Heritage Centre, Bishops Transcripts, D/D/RR135. Izard/Isset/Isett/Isot
Isset Plympton. She purchased from William James property: A 'messuage', tenement and garden with 1 acre of land] sometime before 1695, she at that time a widow] She later, [as Issett Walsh] sold that property to George James of Cudworth: Somerset Heritage Centre 'Cudworth Deeds, etc.'. 1695-1725. Ref no DD/AL/4.
Isset Plympton, [Isset Walsh] Death, 1707 Burial Cricket Malherbie. Collection; Dorset, Somerset – Wills and Administrations 1312-1700 Volume 3. 'Possession Dorset Field Club'. Probate details in Dorchester Museum.
Will of Isott Walsh 1707, Somerset: Calendar of Wills 1537-1799 in Bundles, part 1.
We do have a Bishop's Transcript, which names another wife. This record shows the burial in March 1637 of Nicholas, son of Thomas and wife Ann Plimpton, at Cricket Malherbie.
Cricket Malherbie Church - St Mary Magdalene.
The current church stands on the site of a former church. Consecrated 1852 by Lord Bishop of the Diocese and thirty of the neighbouring clergy. "Magnificent little Parish Church." "The stone masonry, in particular, is highly valued by persons of taste and received the greatest commendation for the masterly manner in which it was executed". "Built at the sole expense of Mrs Pitt and designed by Mountford Allen Esq." The Western Flying Post, Sherbourne Mercury and Yeovil Times, Tuesday, October 19, 1852. Newspaper records -The British Newspaper Archive Findmypast.co.uk online subscription website. Monumental Inscriptions.
Burial of Nicholas, son of Thomas & Ann Plimpton 1637.
Somerset Heritage Centre. Ref A/CQY/158 –. Cricket Malherbie, Wells, Somerset, Bishops Transcripts Vol 1, page 349.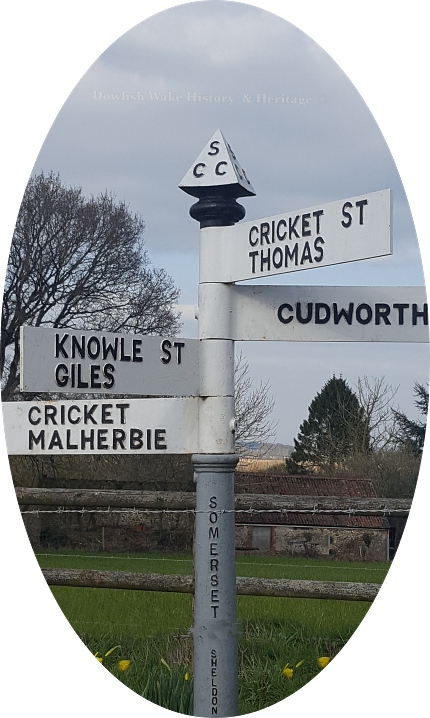 The Civil War, 1642.
The conflict between Parliament and King Charles and the ensuing Civil War.
MP for Somerset: Somerset & Dorset notes & queries page 176. Sdnq.org.uk
The Civil War in the West. Dr John Wroughton. British History. bbc.co.uk
Henry Bonner Esq of Waterleston.
Born Died 1680. Monument in Cricket St Nicholas Church -Henry Bonner, Favourite marrying justice. Page 176, Somerset & Dorset Notes & Queries.
Henry Bonner appointed Sheriff of the County of Somerset., 1649 British-history. ac.uk Commons-appointments of sheriffs.
Manor at Waterleston, [Waston-Weston] 1 year lease 1686. Bonnor & Clarke. See Somerset Heritage Centre 'Chard Deeds, etc.'. 1686-1824. Ref no DD/CHG/37.
Solemnising marriages at Waterleston by Bonner. Nutcombe Manor, page 3, bampton.org.uk
Commonwealth Marriages, Somerset -1653 to 1656 see Westcountry.com 'Somerset Records' - Genealogy & History [all by Henry Bonner] [Plus list of Parish Registrars sworn in by him]. See also westcountrygenealogy.com
John Preston, a gentleman of Cricket St Thomas.
Skirmish at Marshall's Elm near Street, Somerset: 'Timeline 1642'. bct-project.org
Text from page 5 of a booklet 'Two Seventeenth-Century Somerset Freeholders Lists' by Adrian James Webb. The content is taken from John Preston's actual Jury Book. ISBN 1-86241-032-1
John Poulett, 1st Baron Poulett of Hinton St George. See en.wikipeia.org
Tone Bridge, Taunton & Charges for arrears to 'base' born children. Somerset & Dorset notes&queries page 109 & 114. Sdnq.org.uk
Quarter Sessions Records for the County of Somerset. 1646-1660.
House of Correction.
Vol 3. Roll 94: page 314-No 36-'Kalender' of Marmaduke Corum keeper of the House of Correction at Taunton, 13 January 1656/7 'One runaway apprentice and nine women committed for bastardy and evil course of life'.
'base-born child' page 378
'Rough and Tumble' page 31& page xxvii, General Sessions of the Peace of the Lord the King held at Ivelchester April 1647.
Lime Tree Avenue. ['Off Topic' but interesting]. Location of avenue; South West of Cricket Malherbie, planted may be to enhance the entrance to the Mansion.
It has been suggested it was a carriage driveway leading down to Wooley Lane. - This Avenue appears on early maps such as OS 25 inch 1873-1888 [SW England] see online maps.nls.uk - The 1838 Tythe Map while not showing the Avenue, records the field name as Broad Close [Plot number 34. It lies in front of plot 43 on which the "Mansion House and Offices" stood. Landowner Stephen Pitt esquire.
See also interesting read at; A celebration of trees: February: Lime Avenues - sconzani.blogspot.com