A Domesday Village - Doules
A Domesday Village
Dowlish Wake was mentioned in the Domesday book of 1086, with the older spelling of Doules.
The Domesday survey confirms that Doules had existed before 1066. The place name, Doules, reflecting the name of the brook that runs down from Windwhistle Hill. Dowlish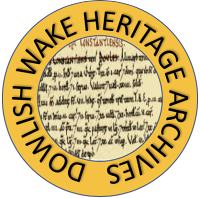 Brook is joined by Wall brook and Stretford water before journeying down to the River Isle. British History Online identifies Ralph Wake as holding land in Dowlish in the 12th century and that the estate was divided into two manors, East and West Dowlish. The survey was conducted by landowners listing how their land was used.
Dowlish and West Dowlish [Known today as Dowlish Wake]
Hundred: South Petherton.
County: Somerset.
Lord in 1066: Alward; thanes, 3.
Lord in 1086: William [of Monceaux].
Tenant-in-chief Bishop Geoffrey of Coutances.
Head of Manor: Dowlish.
Total Population: 31 households.
Households: 14 Villagers, 14 Smallholders, 3 Slaves.
Total tax assessed: 9.3 geld units. Taxable units: Taxable value 9.3 geld units.
Value to lord 1070: £1.2. Value to lord 1086: £7.7.
Ploughland: Land for 1.5 ploughlands - 3 lord's plough-teams - 5.5 men's plough-teams.
Other resources: Meadow 44 acres - Pasture 4*4 furlongs - 20 acres of mixed measures:
Woodland 8*3 furlongs and 20 acres of mixed measures.
Livestock in 1086: 4 cattle. 7 pigs. 32 sheep.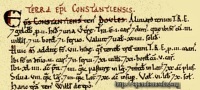 Sources: htpp://opendomesday.org, online copy of the Domesday Book of 1086, image and text kindly made available by Anna Powell-Smith, Professor J.J.N. Palmer, George Slater, University of Hull.
Useful links: http://nationalarchives.gov.uk Interpreting Domesday. http://historyforkids.net. The Domesday Book