Mary Hunt's Grave.
Mary Hunt was buried at Oxenford crossroads date unknown, her grave marked on Ordnance Survey maps.
Locals have many explanations for the legend that is Mary Hunt's Grave.
Looking through the collected Dowlish Wake village records, we see the site of the grave, lies at crossroads near to Oxenford, Dowlish Wake, Ilminster. 'Somerset Historic Environment Record' position the gravesite at Grid Reference: ST 3590 1242 [ST 31 SE] Oxenford. This hamlet formerly in West Dowlish, together with East Dowlish, formed the parish of Dowlish Wake. The actual grave has long since disappeared. The crossroads, signposted to Ilminster, with other roads leading in turn to Dowlish Wake, Cricket Malherbie or Wooley Lane through to Knowle St Giles.
In the past crossroads have been used for public punishments, burials, preaching and witchcraft. Maybe, the lawless criminal, being hung in a cage, a gibbet-cage. [example at the 'Museum of Somerset'], although gallows stood between Moolham and Ilminster, on the hill; as suggested by the field name 'Gallows Down']. It might be that crossroads, with those roads forming the shape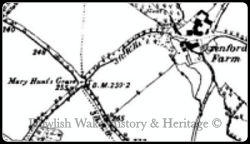 of a cross, could offer the next best thing to that of burial in consecrated ground. Or the site, maybe chosen because it provided entry to the next world. Others have mentioned that crossroads confused the ghost, thereby halting its' wandering. Popular beliefs, omens, good or bad luck and fear of the unknown was present in everyday life. It's easy to see how talk of Mary, now may be a restless ghost, has led to the crossroads said to be haunted.
Folklore of Dowlish Wake suggests several reasons for Mary Hunt's burial at the crossroads, one of which was murder. A current resident of the village, described the happening, as handed down to her, that Mary Hunt, a mother of twins, stood accused of the murder of one of her babies. She was stoned to death at the crossroads and buried there. It also seems that burial at the site where roads cross as punishment for the taking of a person's own life, a sin against God, their creator. With the body being pinned to the earth by means of a wooden stake. Common law reflected olden day fears, superstitions and beliefs connecting all aspects of life and death. The act of 'self-murder' or 'felo-de-se' as it was then known, a crime. Seen in the context of those old English laws, now obsolete, punishment meant a shameful burial at the side of the public road, mostly crossroads. Posthumous inquests were held, with witnesses, jury and coroner. If the jury considered the act a felony, the coroner produced a warrant, then secretly and late at night, constables and churchwardens would carry out the deed.
Despite the legality of the burial, some time afterwards, family, friends or local folk would dis-inter the body, and under threat of prosecution, bury it, secretly in a local churchyard. However, the 1823 Act of George IV, ended burials at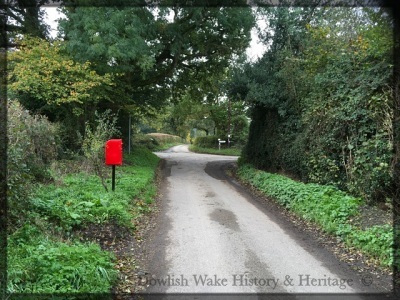 crossroads. 'Felo de se' were then buried in unconsecrated part of a churchyard, between the hours of 9 p.m. and midnight.
Apparently, there was, in Ilminster churchyard, a south-western portion of unconsecrated ground, known as 'Strangers Knap'. Here, bodies would be passed over the churchyard wall so as not to pass over consecrated ground.
The gravesite at Oxenford appeared in print in newspaper correspondence columns during the 1930s. With the help of findmypast's Newspaper Archives, we can explore the recording of events as they were reported at that time. Together with coverage of happenings by journalists, readers letter pages offer an invaluable resource. The 'Somerset County Herald', encouraged readers to participate in written conversations published in a 'Local Notes and Queries' column. Topics were diverse, but included, the exploring of local landmarks and past events, including Mary Hunt's grave. One such entry, published in April 1939, provides a seemingly knowledgeable summary of numerous burials at Somerset crossroads. One said that Mary had taken her own life at Oxenford crosssroads. Was buried there at midnight, with a stake driven through her body. Several locals then reburied the body in Dowlish Wake churchyard! The writer, in 1939, was recounting this tale from a conversation 40 years earlier with a man whose grandfather assisted in the reburial.
Village recollections and folklore have not yet managed to confirm just who Mary Hunt was. But her name has been kept alive by the distinction of the very spot recorded over the years on Ordnance Survey and other maps. For Mary's grave thus marked on the Ordnance Survey map, we could guess that Mary Hunt and her demise were of some importance to those consulted. There is no mention of the grave on any tithe map records of any of the nearby parishes. We can see from maps that the crossroads mark the parish boundaries of Dowlish Wake and Cricket Malherbie and where they meet. It could be that crossroad burial locations became a prominent marker, pre-dating enclosure and the making of maps, so by assisting in the drawing up of boundaries.
Stories handed down in the area relating to Mary Hunt, tell of her being a witch. Others that she was a gypsy which might explain why no record of the event is available. One of our oldest residents speaks of being told that the ghost of Mary,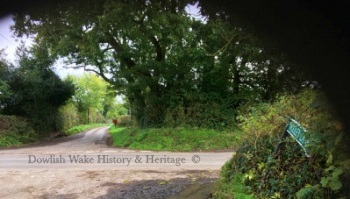 walks the lanes pushing a perambulator, as Mary, a servant of a local landowner was with child. Anthropologist, Kingsley Palmer, in his book, Oral folk-tales of Wessex - published 1973, told of local tradition having Marys' ghost seen to be knitting. Another that she travelled on a trolley.! Opinions were many, resulting in some seventeen different accounts of their beliefs concerning Mary Hunt's grave and its legacy.
We can be thankful to the likes of Kingsley Palmer and others, who decades earlier, have collected village traditions and superstitions that might otherwise have been lost. In his book, entitled 'The Folklore of Somerset' – published 1976. He portrays the burial and the associated happenings of Mary Hunt. Of one interviewee telling of Mary believed to have murdered her husband at Knowle, then, being hanged and buried at the crossroads. Ever-after, the ghost of Mary could be heard rattling her chains. The photo below is of the former church, St Giles, in Knowle St Giles. The Murder Act of 1751 called for horror upon horror; the original horror of the murder act, followed by the horror of a grisly public punishment designed as a deterrent. [Repealed in 1828]
With no record of who Mary Hunt was or why her grave is at the crossroads and supposing that the burial was following a suicide, we might speculate that the burial was before the act of 1823. What we do have is a Mary Hunt, marrying in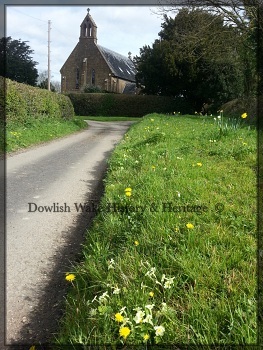 the year 1607, in the parish of Dowlish Wake. Her spouse was Thomas Long. This entry is to be found in Bishops Transcripts 1594-1736, being a copy of that parish's records. Around that time, locally there are instances of the surname Hunt in Dowlish and the surname, Long in Kingstone. On searching the archives, local and national, there is every reason to presume this is she.
Peoples interest in the topic returns yearly at Halloween. Plus, a new younger generation treasure hunting activity of late, outdoor treasure seeking. With Mary Hunts' Gravesite recently being the location for a hidden container during a geocache hunt. One of several members of geocaching.com wrote that the geocache was well camouflaged and thought it was a great place to hide it. With the added comment sensibly warning others to be careful at the busy crossroads.! Whether that was traffic or the ghosts, it's not clear?
The legend lives on.
Future investigations could concentrate on Coroners Records held at The National Archive. Coroner inquests were held by the Court of the Kings Bench.
Walk and Cycle Route in the area; The Stop Line Way, Ilminster to Chard pdf - https://www.ilminsterweb.com/Pages/Documents/Publications/The_Stop_Line_Way.pdf

OS Map 088/SW, Map of Somerset [Southampton, 1884-1894]. British History Online. 1-to-10560/somerset/088/sw [accessed 26 October 2019]
Somerset HER – Somerset Historic Environment Record – Dowlish Wake - No 17082
Hanging in chains-The Murder Act of 1751: – Wikipedia
Burial of Suicide: Act of 1823 – Wikipedia
Felo-de-se: & George IV Act of 1823; Wikipedia
Somerset Gibbet Cage-swheritage.org.uk
Field Name, 'Gallows Down', plot 156, Tithe records. Somerset Record Office
Marriage Mary Hunt and Thomas Long at Dowlish Wake – 1606-1607 - Family Search.org
Geocache at Mary Hunts Grave – geocaching.com
Kingsley Palmer - Oral Folk Tales of Wessex - 1973 [David & Charles – Newton Abbot]
Kingsley Palmer – The Folklore of Somerset – 1976 [B T Batsford Ltd – London] Murder at Knowle p89]
Newspaper records -The British Newspaper Archive – Find my past Subscription website. findmypast.co.uk
Replies to Queries no 3343. Taunton Courier & Western Advertiser. [Somerset County Herald], page 4, Saturday, the 1st, April 1939.
Mary Hunts Grave, contributor M.
Strangers Knap/Ilminster, contributor I.W.