Packhorse Bridge occasionally impassable.
Flooding
Dowlish Wake, nestling here in this Somerset hidden valley, with its cider mill and apples.....and sometimes it rains.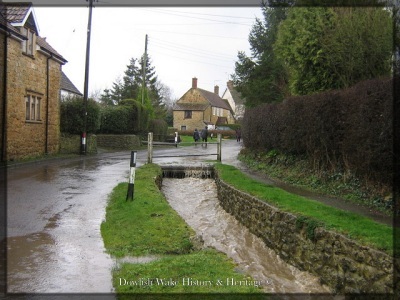 Rolling hills, ploughed fields, combes, streams, ancient trees..... and sometimes it rains.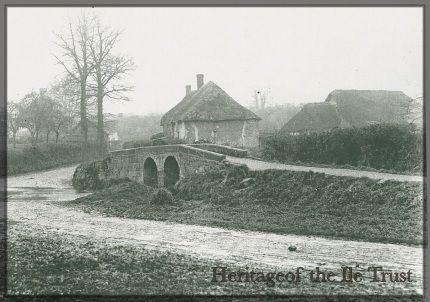 Family-run farms, thatched cottages, packhorse bridge and the charming inn.....and sometimes it rains.
Streams and Brooks
Dowlish Brook has its beginnings in streams flowing down from the slopes of Windwhistle ridge. Springs rising here go on to form Wall Brook and Stretford Water, plus other unnamed streams. These then form 'Dowlish Brook' close to the village of Dowlish Wake, before flowing under the 17th-century packhorse bridge. There are other streams originating from springs near Bonner Leaze and Cudworth, these are un-named streams.
They go on to join together near Lower Wallbridge Farm, flow to the left of the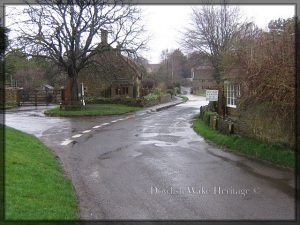 Cider mill. Pass, close to the Old Parsonage, before joining the Dowlish Brook near Bryants. From here it flows into the River Isle at Donyatt then onto the River Parrett.
The tributaries, Wall Brook and Stretford Water, have their origin near Cudworth, Ludney, Lower and Higher Chillington. On their descent, they once formed a mill race, providing waterpower for Dowlish Wake flour mill in Mill Lane.
Ford-Crossings
Packhorse Bridge, built on the site of a former wooden medieval bridge, with its ford-crossing, has been used for centuries. The Dowlish Brook here at times is swollen and impassable. A photograph shows this ford with Wayside and Bridge cottages on the right, Higher Farmhouse on the left. Here in the 1990s, significant works were carried out.
A long-awaited remedy, 'The Dowlish Wake Flood Alleviation scheme' was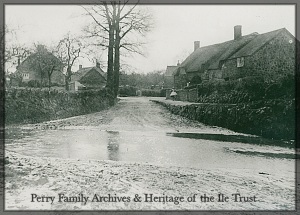 completed. Many a time, villagers have rescued occupants from vehicles that were submerged.
Villagers in properties near the Packhorse bridge have found themselves cut-off at times and occupants trapped in upstairs rooms. A regular occurrence at one time, in fact, one year, around 1912-1917, Wayside Cottage had bread delivered via a bedroom window. The baker was balancing it on his oven-shovel!
Another ford in Dowlish also caused problems; this one situated near Lower Wallbridge Farm in Main Street. Here the Wall brook ford flooded and muddied the lane. Works in the 1990s saw the Wall Brook contained, it now flows through a culvert under the road.
A third ford in Cudworth Lane, replaced by a bridge, the build date unknown. It adjoins the 'New Inn car park', situated in the lane in front of what was once the old village carpenters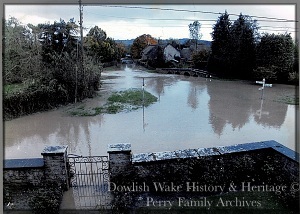 ' shop, now Prospect Cottage. The stream here, un-named, meanders down from Bonner Leaze.
The ford-crossing by Perry's Cider Mill gives access to footpaths, fields, and properties, the latter 'Stonesmead' and 'The Old Parsonage'. Flooding here can restricts foot and vehicle access to these properties.
Another ford-crossing on Stretford Lane, this time out of the village, but on the edge of the parish boundary, would very often be unpassable.
Flood water must have caused a nuisance for many a year. Stretford Water floods Stretford lane, fields, footpaths and the former track 'Oldway Lane' [now abandoned].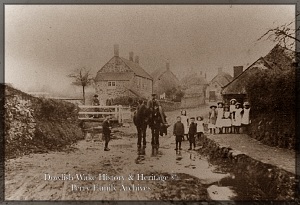 Disruptive for both Chillington and Dowlish farms and their farm labourers, as emphasized in a newspaper account of 1883.
Mr Duke, local landowner, seeking the building of a bridge, complained to the Ilminster Highway Board that the recommended proposed improvements at Stretford Water had been before them for some 30 or 40 years.
Later, in 1923, under a scheme to relieve the high unemployment in Britain at that time, a flood alleviation scheme, at Stretford Water was agreed. Chard Rural District Council proposed the scheme with men paid 30 shillings a week, the project costing £670.
Reason for flooding
Flooding caused by abnormal rainfall, is aggravated by run-off from the land. The aftermath of heavy downpours of rain falling on already soaked earth. This volume of water is then unable to drain away through the existing drainage system.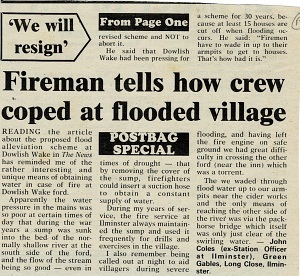 Flooding even at average rainfall caused, by blocked drains, culverts and gullies which can be silted up. Storms bring tree debris which build-up, blocking drains, gullies and ditches.
There is the natural layout of the land with water pouring downhill from Windwhistle Ridge, at times a volume of water more significant than the drains and culverts can cope with, creating 'road rivers' in our lanes.
Flooding at various times of the year has meant long detours for those wanting access in or out of Dowlish Wake.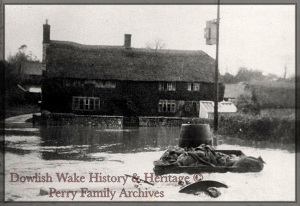 Villagers and visitors have been trapped many times over the years attempting to drive or walk through the flooded fords.
Action
There have been many attempts to remedy the problem of flooding in Dowlish Wake, the earliest maybe the packhorse bridge. Also, it might be considered the Church and Manor house, built on higher ground.
The Chard & Ilminster News, in November 1910, revealed Major Speke, proactive in seeking to alleviate the situation of repeated flooding's in Dowlish Wake. The newspaper, with a column heading; 'Dangerous Fords', reported on a meeting of the Chard Rural District Council.
The county surveyor, Mr R Stephens, warned of flooding problems particularly at fords, the solution, bridges needed to be built. He spoke of the danger created by floodwater at ford crossings on principal roads in the district. A bridge, he suggested, could be constructed each year, with Dowlish Wake ford and two others considered the three 'worst places'. When the chairman questioned the expense.
Major Speke offered to contribute to any Dowlish Wake improvement and stated he wanted 'the matter dealt with'. This meeting closed with a statement that the surveyor would advise on requirements at Dowlish Wake and report back with a proposal.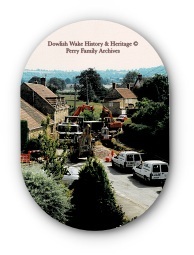 To follow, 'The Dowlish Wake Flood Alleviation Scheme'.
Online newspaper records; The British Newspaper Archive – Find my past Subscription website. Findmypast.co.uk
1883 Mr Duke - The Western Gazette, Friday, June 15th, 1883.
1910 Major Speke - The Chard & Ilminster News, November 1910
1923 Unemployment Scheme - Taunton Courier January 24th, 1923.