Notes and diaries left by Mr & Mrs Goodchild allow us a glimpse into local life during the twenty years up to 1995.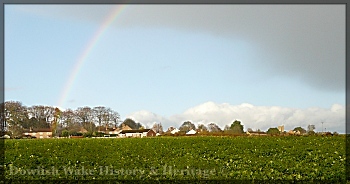 The new family home ideally situated to enjoy the communities of both Kingstone and Dowlish Wake.
Located at the top of Mill Lane near its junction with Moolham Lane and surrounded by fields, lying within that half of Kingstone, which in turn is just inside the parish boundary, of Dowlish Wake.
Upon retirement in 1973, Clifford and Francis moved from London to Kingstone, Somerset. Here, their bungalow, then named "Tara", with its elevated position, provided picturesque views over the surrounding countryside. They soon immersed themselves in local life through their weekly attendance at church services. Whether it was Kingstone, 'St John & All Saints' or Dowlish Wake, 'St Andrews', Clifford and Francis happy to have two options.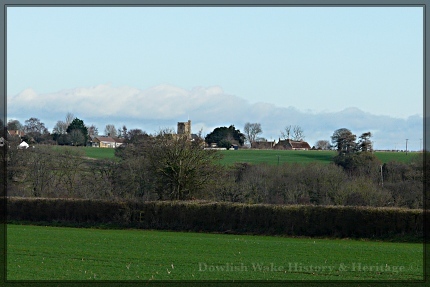 Francis enjoyed contributing to the necessary voluntary tasks that country churches rely upon—joining the band of helpers, taking turns on a rota for flower arranging, dusting and cleaning. Together with occasionally playing the organ at Kingstone services. She could be relied on to bake for the Women's' Institute cake stall, as well as attending their meetings and various functions.
Meanwhile, Clifford soon became known as the "fixer of things', on hand to resolve maintenance problems within one or the other church buildings. Leaking drain pipes, squeaky gates, fallen branches and even catching church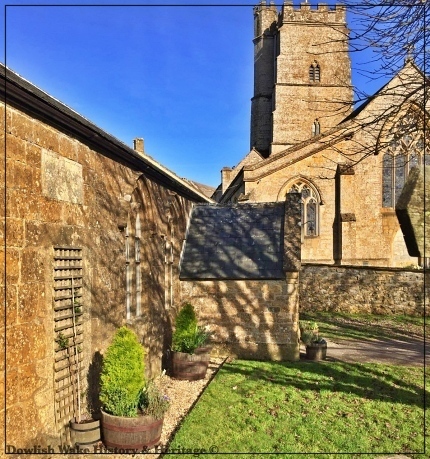 mice! He would open-up Kingstone Church on winter mornings, lighting fires or in later years switching heaters on. He replaced the church notice board. He made welded metal frames to hold the church Christmas trees, as well as one for the yearly display, of garden & farmers, produce at church 'harvest festival'. A member of the P.C.C. committee, all of which made for a busy, active life.
On arrival in April 1974, he had attended the re-opening of Speke Hall, over the years he would be involved many times with its well-being. In November 1983 he took a phone call from a worried helper at Speke Hall, who reported that the cooker had 'blown up and smelling of rubber'. This had Clifford quickly down the hill to investigate; He found the problem, a phone call was put through to the S.W.E.B. to attend and rectify. He had, also in 1981 on New-Years day, made safe a fallen tree at Speke Hall.
Clifford over the years would be 'fixing things' at various village locations: In the field with Charlie Gudge fixing his electric fencing, in the cider mill museum, helping with the displays of old farm implements. He was often found overhauling exhibits, one such exhibit, a 'spirit smoothing iron'. His love of everything mechanical gave him many hours of shared enjoyment with like-minded villagers. He is spoken of now as a man known for getting on very well with others, particularly while making improvements within the museum in the summer of 1987.
Other village events often had them both working alongside others from this friendly community. Visits by Morris dancers, whist drives, beetle drives, jumble sales, plant sales and even barn dances at Chapmans. Both Francis
and Clifford and others immersed themselves in the planning stages, execution and enjoyment. One highlight for Clifford seems to have been the planning of a Treasure Hunt in 1989, it being the hottest May day for 60 years, he commented.
Transport could often be challenging, with no bus route closer than Ilminster. At one time there was a service that came down and picked up passengers by the Packhorse bridge. On schooldays, diary entries reported difficulties meeting grandchildren, off-loading from the bus at Oxenford crossroads.
Local produce was available at one time at a shop in Cricket Malherbie. On Thursdays, the Cliffords would drive down and stock up on greengrocery, cheese and eggs, for themselves and others. For a time, there was a mini-market in Speke Hall, with homemade cakes, garden produce, sweets and crafts, all fundraising for the W.I. The Cliffords ran errands for neighbours, gave lifts to hospitals and doctors as do the villagers today. There were weekly trips to Dinnington collecting 'Salvage'?
Their property up on the hill at Kingstone had far-reaching views. The bungalow overlooking a 21-acre field. This field, belonging in 1838 to Wm Speke and was named 'Kingstone' in the Tithe records. [Then later 'Church Fields' in Dillington Estate records]. This elevated location provided ample opportunity to enjoy the local wildlife, listing the many birds that visited their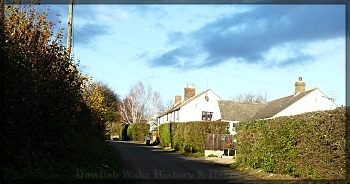 garden. Clifford also made bird boxes for themselves and others. Francis, in springtime, recorded the date each year that they heard the cuckoo for the first time. The earliest being April 21st and latest May 9th. Sadly, these iconic birds have seen their numbers much declined. However, still heard in woods near Chaffcombe and Chard Reservoir bird watchers have recorded the odd single cuckoo in recent years. On the plus side, recently a skylark has been heard over Kingstone fields.
The diary mentions enjoyment of the excellent views and happenings, such as the local huntsmen and hounds and their followers, or witnessed sheep moved out of the field ready for lambing. On their doorstep other adventures to behold. Such as passenger 'Hot Air Balloon' trips, some of which ended prematurely in the fields near their bungalow. These huge colourful balloons, often heard before coming into view, floating above on warm summer evenings. One drifted low over their bungalow in Aug 1988, before landing in Dowlish Wake playing field. Another gave its' passengers a close-up of the Sewerage Works in 1993 as it landed in the field below the council houses.

Prominent in their diaries are the recording of each days weather, with the wind at times threatening the greenhouse and conservatory [a 'dreadful' gale on 25th of January 1990, resulted in much replacement of glass]. Snow and flooding too figured significantly in the diaries, with several times over the years, being 'cut off' from Dowlish Wake at the bottom of the hill. In the year 1978, in the 3rd week of February, Clifford wrote "we are marooned" as heavy snow changed the landscape. Later an entry records no cars passed their bungalow from 17th to the 22nd of February 1978.
Clifford had plenty to occupy himself for he designed and built a garden pool which became his pride and joy. He was a keen photographer, enjoying capturing the harvesting of crops with the combine harvester in the field over his garden fence. As with any other task, Clifford would be meticulously recording all details of his film footage. Then there was the typed, long list of items he had or was repairing for locals since moving to Kingstone.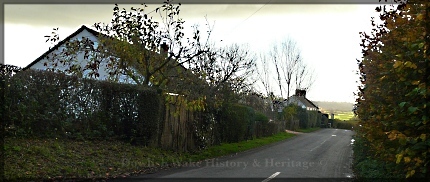 Clifford and Francis enjoyed 20 or so years in the parish, glad to have left behind London in 1974. The tranquillity that is this corner of Somerset making a considerable contrast to London life. The years passed, busy indoors busy outdoors, making many friends, and above all, making a 'difference'.
We are grateful to the family of Mr and Mrs Goodchild for the loan of the diaries and their kind permission to share the article presented here.
Chard Reservoir- www.southsomersetcountryside.com
Chard Reservoir Nature Reserve – www.chardres.totalserve.co.uk
1980 8-15 am, 27 January Diary Entry – "lit fires in `Kingstone Church."
'London Troubles' The city rocked by 'the troubles' of 1973-1974, with injuries and deaths. - Wikipedia
'The Great West Country Blizzard' affected the SW of the UK 'one of the worst snowstorms to hit the UK' - www.netweather.tv